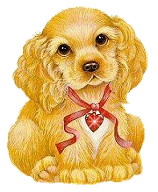 Our mission is to rescue, foster, rehabilitate and adopt out Cocker Spaniels into permanent, pre-qualified homes based upon our core values of integrity, reverence for all life and respect for humans and animals while providing excellence in all we do. RMCR was founded in Colorado and is part of an extensive network of Cocker Spaniel lovers headquartered in metro Denver. We believe a group of dedicated volunteers can make a significant and lasting difference in the lives of unwanted, abandoned, abused or neglected Cocker Spaniels in Colorado, neighboring states and the entire Rocky Mountain Region. We have fosters in Metro Denver, Boulder and Ft. Collins. Our new SoCo Branch,  managed by Audra J. Bowen, includes Monument, Colo Spgs, Pueblo, Woodland Park, and Ordway.
The Pet Animal Care Facilities Act (PACFA) Program is dedicated to protecting the health and well-being of animals in pet care. We are the only PACFA-licensed Cocker Spaniel rescue in Colorado!
Our directors and volunteers rescue Cocker Spaniels in need when they face euthanasia or from owners who cannot care for their pets anymore, as well as neglect or abandonment situations. Rescued dogs are placed in a foster home of prescreened volunteers until a suitable forever home is found. Before the dogs are available for adoption, they are spayed or neutered and seen by a veterinarian for a health exam to identify and treat any health care issues, along with any necessary vaccinations. Our dogs also undergo a behavior evaluation to help determine what type of permanent home environment will allow them to thrive and succeed.

RMCR Board Members
Kathryn Glass, President/CEO
Audra J. Bowen, Vice-President
Linda Parker, Intake Director
Suzette Compton, Foster Director
Carolyn Pittman, Placement Director
Andrea Behr, HR Director
Rocky Mountain Cocker Rescue, Inc. is a 501(c)(3) non-profit, charitable corporation headquartered in Centennial, Colorado and officially incorporated on February 17, 2009.
All donations and support are tax deductible.